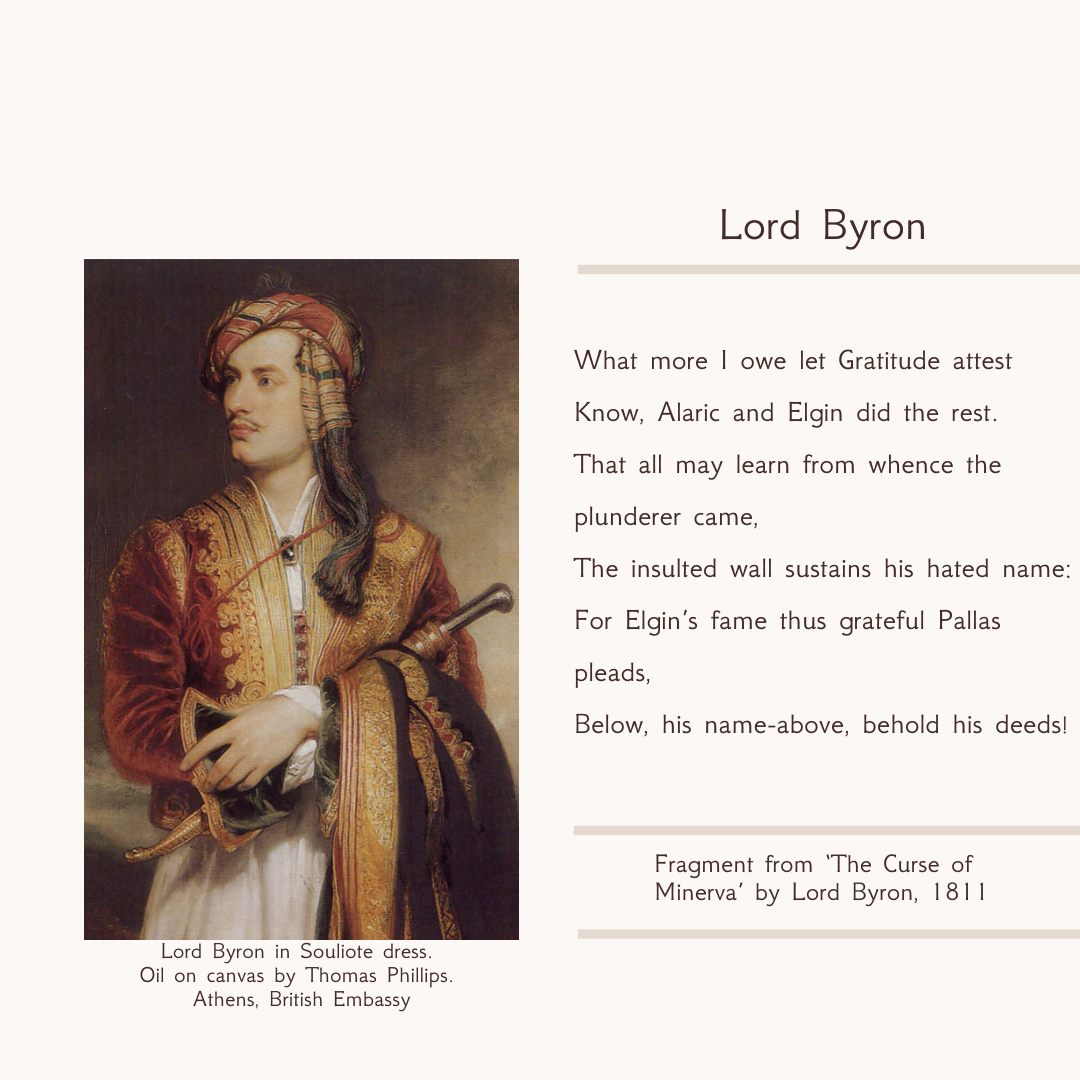 🇬🇷 philhellene (adj.)
"a friend of Greece, a foreigner who supports and assists the cause of the Greeks," from Greek philhellēn, from philos "loving" + Hellēnes "the Greeks". Originally in English in reference to the cause of Greek independence; later also with reference to Greek literature or language. Related: Philhellenic; Philhellenism.
A Great Philhellene, a Greek National Hero, and above all a Romantic Poet: Lord Byron
✒️ #Byron was a bitter opponent of Lord Elgin's removal of the Parthenon marbles from Greece, and "reacted with fury" when Elgin's agent gave him a tour of the Parthenon, during which he saw the missing friezes and metopes. He penned a #poem, the Curse of Minerva, in 1811 to denounce Elgin's actions.
📜 The poem consists of 312 lines and it is a severe attack against Lord #Elgin and his taking away from Greece the so-called «Elgin Marbles», the marbles of the #Parthenon on the #Acropolis of #Athens. Ever since these marble sculptures arrived in London early in the 19th century, they have caused controversy.
⚓ The #Philhellenic Movement, which developed in 1823, was supported by Byron's voluntary #sacrifice to invest large amounts of his fortune to fund the maintenance of Greek warships and he even launched his fighting unit. Byron also established himself as a link between the Greek revolutionaries and the London Philhellenic Committee, a group of British Philhellenes who channeled more money to support the Greek military.
🙏 His death hurt deeply all the Greek renegades. Men and women grieved for his death, he became a symbol of #patriotism and declared a national hero. After his funeral in #Messolonghi, his body was moved to #London. In those days Dionysios Solomos wrote the poem "On the death of Lord Byron" to honor the life and work of the Great Philhellene.